Rank: Captain
Regiment: Royal Welsh Fusiliers (25th Battalion Montgomery-shire and Welsh Horse Yeomanry)
Service No:
Died: 31st October 1917
Age: 44
Cemetery: Beersheba War Cemetery, Israel
Memorial:
Memorial Park, Coedpoeth
Son of Mr, and Mrs, Godfrey Fitzhugh of Plas Power, Bersham, Wrexham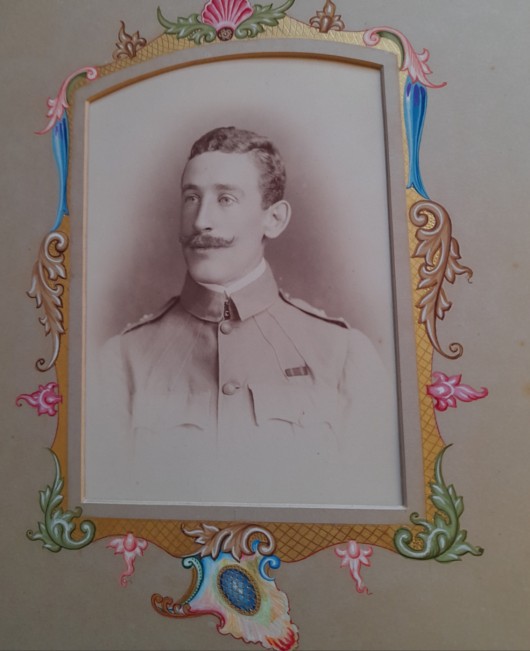 Posts
---
Captain Godfrey FITZHUGH
1st Montgomery Yeomanry attd 25th Royal Welch Fusiliers
Date of birth: 20 October 1873
Date of death: 1 November 1917
Killed in action aged 43
Buried in the Beersheba War Cemetery, Grave Reference: K. 13.
Godfrey was born in Pershore, the son of Godfrey William Fitzhugh, a barrister, and Katharina Emily Oakley of Plas-Power, Wrexham.
At the time of the 1891 census, Godfrey was described as "articled clerk to a solicitor". In June 1894, he was gazetted to be a Second Lieutenant in the Yeomanry Cavalry and was promoted Lieutenant, three years later.
In March 1900, he was seconded for service with the Imperial Yeomanry. He relinquished his Commission in the Imperial Yeomanry in September 1901.
He married Ethel Mary Peel on 14 April 1904 they had two sons and a daughter. In October 1905, the London Gazette announced, "Major in the Yeomanry Cavalry (Honorary Captain in the Army) G. FitzHugh resigns his Commission. Dated 18 October 1905". In 1909, he was Sheriff of Denbighshire and was appointed a Deputy Lieutenant, the following year.
He was a Captain in the Montgomeryshire Yeomanry (TF), and arrived in Egypt with the Royal Welsh Fusiliers 25th (Montgomeryshire and Welsh Horse Yeomanry) Battalion on 4 March 1916. In Egypt, the Montgomery Yeomanry were dismounted, and on 4th March 1917 became Infantry, part of the 231st Brigade of the newly-formed 74th (Yeomanry) Division. They were engaged at the 2nd Battle of Gaza 17-19 April 1917, and the 3rd Battle of Gaza 27 Oct-7 Nov 1917, including the Capture of Beersheba on 31 October, the day on which he was killed.
He is commemorated in St Hildeburgh's Church, Hoylake, Cheshire on the Memorial Plaque to Members of the Royal Liverpool Golf Club who fell in the two world wars. His widow had the bells at St Mary's Church in Plas Power installed in his memory; they consist of a carillon of eight bells operated by hand and are still in use 2010.
He was awarded the British War & Victory Medals, and the Territorial Force War Medal. He was President of Bersham Cricket Club having given them a field c1904. His grandsons continue the connection (in 2011).
Remembered with honour
BEERSHEBA WAR CEMETERY


Commemorated in perpetuity by
the Commonwealth War Graves Commission <!–
–>